Struggling To Peel Shrimp?
Get your fish & shrimps cleaned & peeled using only One knife Without The Hassle!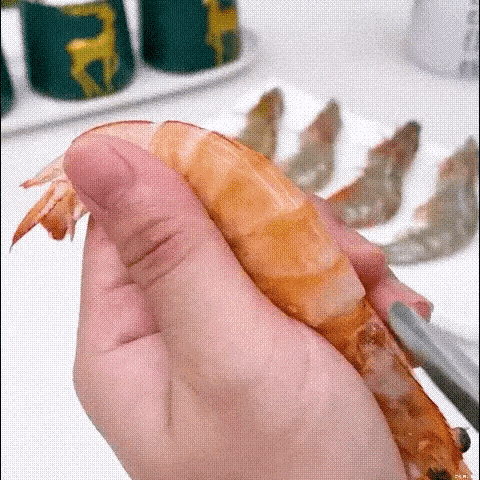 Transformed over 1,000,000 Households globally
Cut through soft shells, scales, and even fins with the help of our premium ShrimpStrip™. The ShrimpStrip is fitted with a double-row knife blade to assist you in slicing through a variety of food.
Plus, the ShrimpStrip™ comes with an eagle-beak design that helps you penetrate through the shell and peel it off in an instant. It also makes cutting and gutting fish so much more hassle-free and convenient.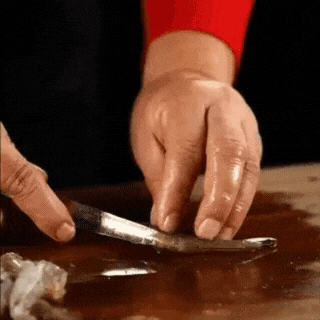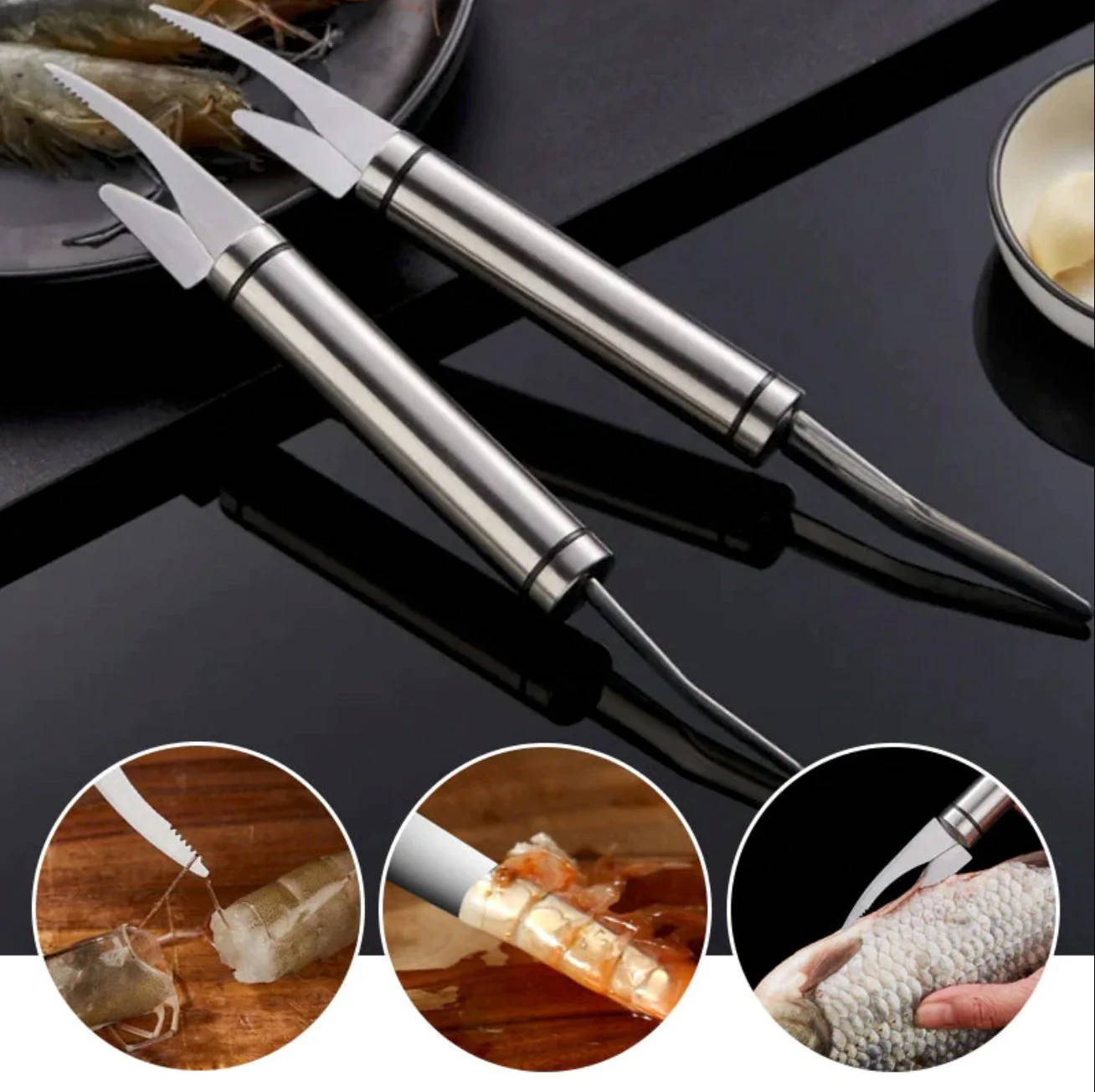 Cleaning fish & shrimps is no longer a difficult task
Use this amazing ShrimpStrip™ to make cooking seafood so much easier. This handy device can help you deshell, scale, cut, and split both food and other materials.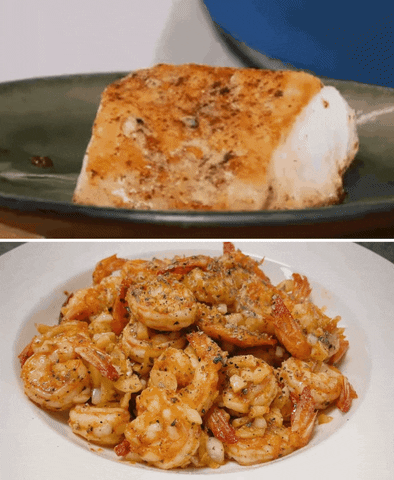 enjoy the freshness of fish & shrimps instantly with your family!
To make things better, the ShrimpStrip is easy to grip onto, making it a lifesaver when handling slippery seafood. Plus, it's perfectly shaped to cut through shells and lift them off within seconds.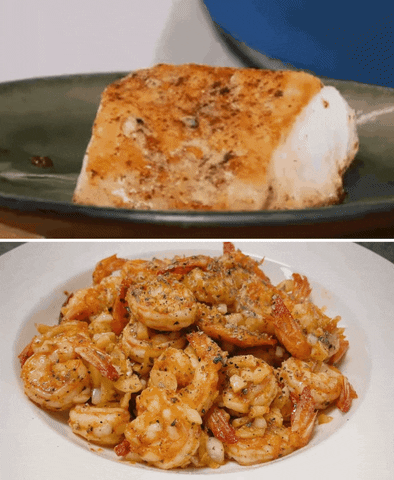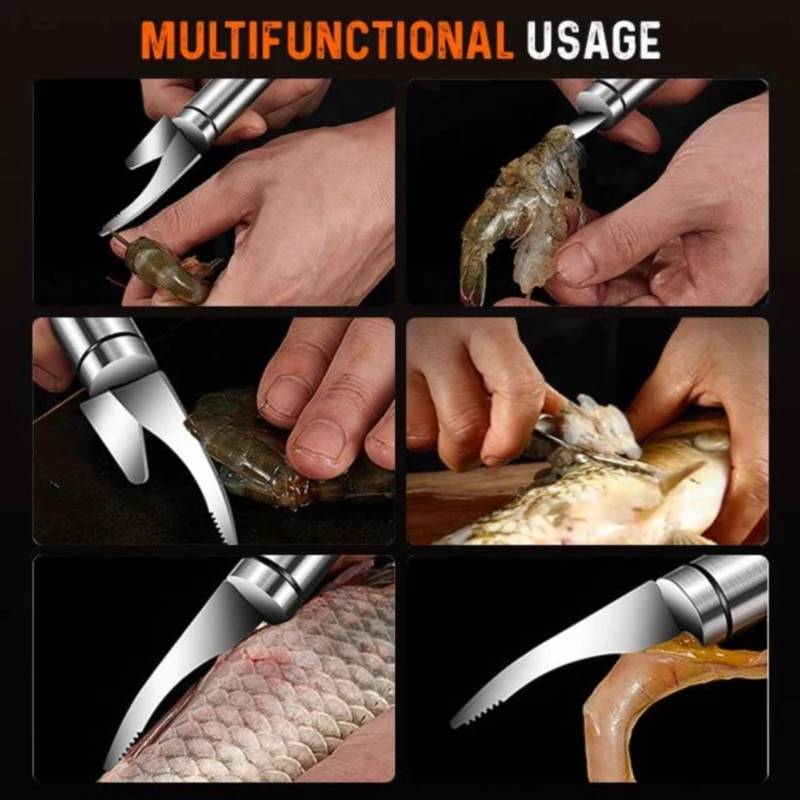 5 in 1 Multifunction: Removing shrimp threads, splitting, scaling, cutting and gutting, all these complicated tasks are now left to this delicate knife. Yes, he can do all these jobs perfectly.
Double-row knife blade: Two rows of knife blades, a long and a short, the long one can be used to cut off the head of shrimp, divide the fish, pick out the shrimp thread and other work. The short one is used to work together with the long one, which can shave the belly of the fish; the double row of blades can clean the fish scales more thoroughly.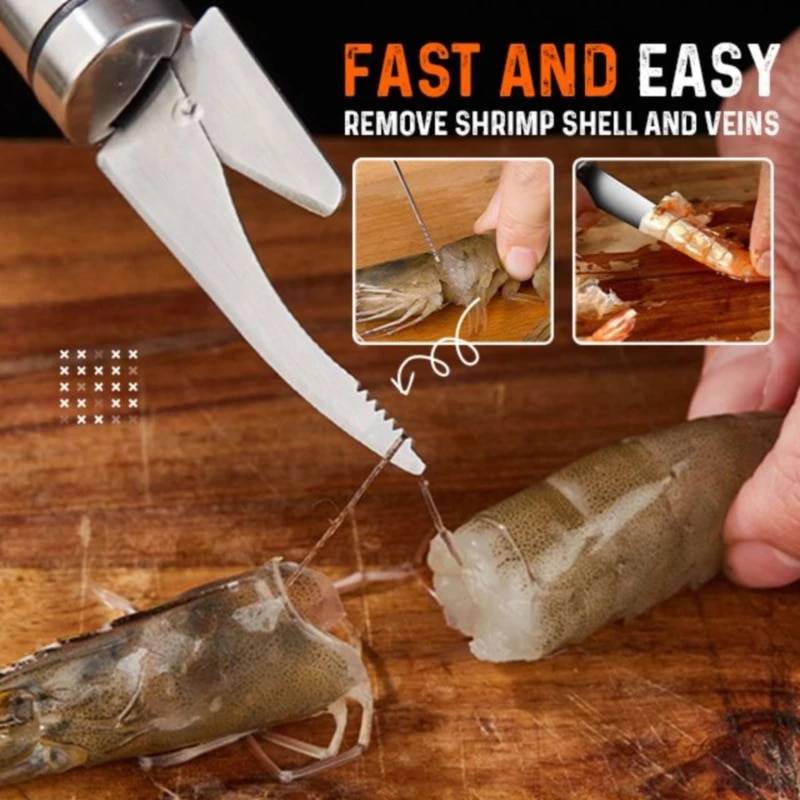 Eagle-beak Design: One end is designed with an eagle-beak, which can directly penetrate into the back of the shrimp to peel off the shell in one second and get the complete shrimp meat.
Sharp Tips: The double-row blade is equipped with sharp tips to help you work on detailed areas.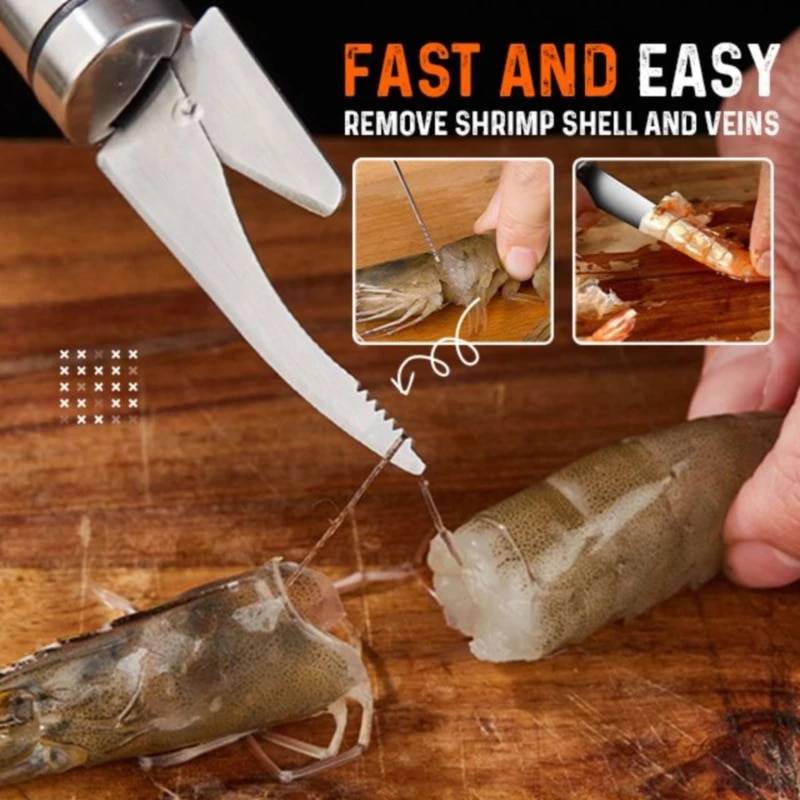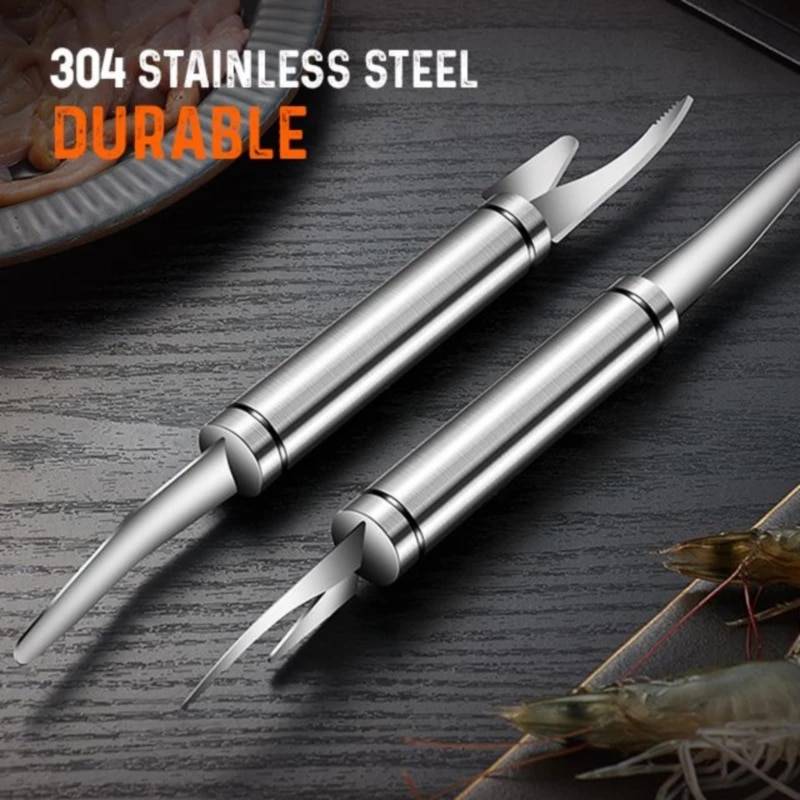 Premium Edible-Grade Steel: Our fish knives use Stainless Steel, safe and non-toxic, 100% healthy, this steel is very tough, wear-resistant and rust-free.
Lightweight And Comfortable: Using German brushed technology, the knife handle is non-slip and comfortable in the hand. The whole knife will not feel tired after using it for a long time.
Easy To Clean: The knife body texture is smooth and can be cleaned with a flush of water without hiding dirt. In contrast, only washing one knife is more water-saving.


30 day Money Back Guarantee


frequently asked questions
What's the ShrimpStrip™ product specifications?
Material: Stainless steel
Color: silver
Weight: 50g / 0.1lb
Package includes: 1/2 × ShrimpStrip™ - Multifunctional Shrimp Line & Fish Maw Knife
Size: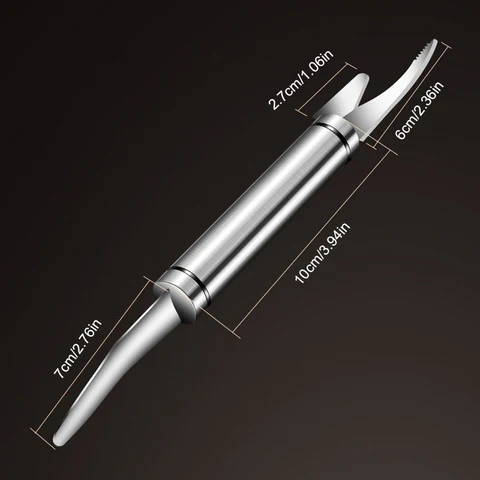 Yes! We ship worldwide and shipping is always FREE! Non-US customers are responsible for customs clearing/duties, and local taxation. International shipments may be subject to customs processing and additional charges, customs policies vary from country to country, therefore you should contact your local customs office for more information. When customs clearance procedures are required, it can cause delays in arrival. If you can normally order product from the U.S or China and have it shipped to you, then you can order in the same manner without any problems!
Every order comes with a tracking number and can be easily tracked straight from our website That way you can always know your package is safe and on its way to your doorstep. We also offer package insurance for a low cost of $4.99!
I still have not received my order. What is taking so long?
We apologize for the delay. You can however track your order and see where it is at any time. If you feel that you need help tracking your package or want to inquire more about it, please send us an email and a customer support representative will be more than happy to help you out.
What is your refund policy?
We always put our customers first and do our best to resolve any issues that our customers may experience with their online orders. Any product you return must be in the same condition you received it, in the original packaging, and must be within 30 calendar days of the delivery date. Please keep the email receipt. For more assistance, please send us an email and a customer support representative will be more than happy to help you out.
If you have any questions that are not on this FAQ page, please email us at care@akoyahome.com and a customer support representative will be more than happy to help you out.