Unique Personalized Piggy Bank!
Teach Your Kids To Save Money In A Fun & Creative Way With the LetterMe™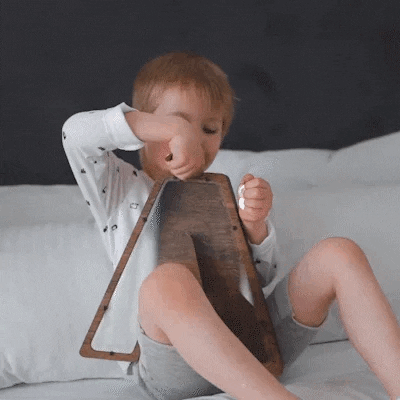 Add a fun twist to your money saving routine with LetterMe™! The LetterMe™ comes in every letter of the alphabet so that you can choose the one that's perfect for you.
With its sleek wooden body and transparent front cover, the LetterMe gives you a sneak peak of all the money you've saved. Plus, it doubles as a beautiful tabletop decoration that you will cherish for years!
Saving Made Fun, Exciting, And Personalized To You!
Whether your name starts with an A or a Z, the LetterMe has got you covered! Simply choose the initial that matches your name and you're left with a fun piggy bank that's personalized for you. You can even have your name printed on it!
Perfect for developing the saving habit
With its natural wooden body, the LetterMe is definitely pleasant to look at. Its various shapes give it that extra charm that anyone would love!
With its cute and dainty design, the LetterMe can carry a whole lot of your extra cash and change. You'll look forward to filling it up and breaking it open once it's filled up to the rim!
the Perfect Educational Gift for your loved Ones!
Our LetterMe is a perfect gift to yourself or to your loved ones. Its personalized touch will wow anyone who receives it. Plus, you'll leave a lasting memory in their hearts.
30-DAY MONEY BACK GUARANTEE

Frequently Asked Questions
Size: 7.4"(H) x 6.7"(L) / 18 x18x2.8 cm
1 x Piggy Bank
2 x Stickers
Yes! We ship worldwide and shipping is always FREE! Non-US customers are responsible for customs clearing/duties, and local taxation. International shipments may be subject to customs processing and additional charges, customs policies vary from country to country, therefore you should contact your local customs office for more information. When customs clearance procedures are required, it can cause delays in arrival. If you can normally order product from the U.S or China and have it shipped to you, then you can order in the same manner without any problems!
Is there a refund policy?
We always put our customers first and do our best to resolve any issues that our customers may experience with their online orders. Any product you return must be in the same condition you received it, in the original packaging, and must be within 30 calendar days of the delivery date. Please keep the email receipt. For more assistance, please send us an email and a customer support representative will be more than happy to help you out.
Are tracking numbers provided and is there package insurance?
Yes! Every order comes with a tracking number and can be easily tracked straight from our website That way you can always know your package is safe and on its way to your doorstep. We also offer package insurance for a low cost of $4.99!
I received a damaged item. What can I do?
We are extremely sorry to hear that! Unfortunately sometimes shipping companies may be carless during transit and it is out of our control. Just send us an email with a picture of the damaged item and we'll send you a similar replacement item as soon as possible!
I still have not received my order. What is taking so long?
We apologize for the delay. You can however track your order and see where it is at any time. If you feel that you need help tracking your package or want to inquire more about it, please send us an email and a customer support representative will be more than happy to help you out.