Say goodbye to the hassle of traditional wine opening
& UNCORK YOUR FAVORITE WINE WITH EASE!
Imagine a world where opening your favorite bottle of wine is as easy as pressing a button. The PowerCork Pro™ effortlessly removes corks in seconds, ensuring a smooth and enjoyable process every time. Its rechargeable design means you never have to fumble for batteries, making it the perfect companion for home dinners, parties, or romantic evenings!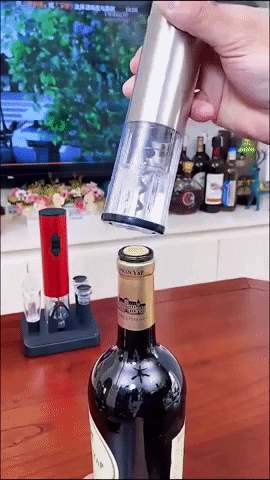 Elevate Your Wine Experience with Effortless Uncorking!
& Unleash Effortless Elegance with Every Sip!
🍷Effortless Wine Uncorking: Indulge in a seamless wine experience with PowerCork Pro™. Our electric wine bottle opener takes the effort out of uncorking, effortlessly removing corks in mere seconds. No more struggling or broken corks - just the pure joy of savoring your favorite vintages with absolute ease! Peel,Pull,Push---Just 3 steps to remove the cork in seconds!
🍷Rechargeable Power: Embrace sustainability in style with PowerCork Pro™. Equipped with a powerful rechargeable battery, our wine bottle opener ensures you're always prepared to uncork without the hassle of constant replacements. Enjoy the convenience of a fully charged device, ready to enhance your wine rituals whenever the mood strikes!
🍷Convenient Set: Complete with a foil cutter, wine stopper, wine pourer, and a cork remover, it offers unrivaled convenience from opening to storing your favorite wine!
The Ultimate All-in-One Wine Gadget!
🥂Wine Pouring Gadget: Included in the set is a wine pouring gadget, transforming the way you serve your wine. Enjoy a flawless pour with every glass, adding an extra layer of sophistication to your gatherings.
🥂Vacuum Sealer: Preserve the freshness of your opened wine bottles with the integrated vacuum sealer. Each subsequent pour is as exquisite as the first, ensuring your favorite wines maintain their peak flavor!
🥂 Ideal Gift for Wine Lovers: Searching for the perfect gift🎁 for a wine connoisseur? Look no further. Our set seamlessly blends convenience and style, creating an ideal present for any wine enthusiast. Surprise them with the joy of effortless uncorking and elevated wine experiences.
Elevate Any Moment with Our Rechargeable Wine Opener Set!
Whether hosting, celebrating, or simply sipping at home, our Rechargeable Wine Opener brings elegance to every occasion. Effortless uncorking, sustainable power, and added accessories make each pour perfect!
30 day Money Back Guarantee
frequently asked questions
1x PowerCork Pro™ Rechargeable Electric Wine Bottle Opener Set (4pcs)
Metal Type: Carbon Steel
Model Number: Electric Wine Opener
Type: Openers
Openers Type: Wine Openers
Eco-Friendly
Yes! We ship worldwide and shipping is always FREE! Non-US customers are responsible for customs clearing/duties, and local taxation. International shipments may be subject to customs processing and additional charges, customs policies vary from country to country, therefore you should contact your local customs office for more information. When customs clearance procedures are required, it can cause delays in arrival. If you can normally order product from the U.S or China and have it shipped to you, then you can order in the same manner without any problems!
Every order comes with a tracking number and can be easily tracked straight from our website That way you can always know your package is safe and on its way to your doorstep. We also offer package insurance for a low cost of $4.99!
I still have not received my order. What is taking so long?
We apologize for the delay. You can however track your order and see where it is at any time. If you feel that you need help tracking your package or want to inquire more about it, please send us an email and a customer support representative will be more than happy to help you out.
What is your refund policy?
We always put our customers first and do our best to resolve any issues that our customers may experience with their online orders. Any product you return must be in the same condition you received it, in the original packaging, and must be within 30 calendar days of the delivery date. Please keep the email receipt. For more assistance, please send us an email and a customer support representative will be more than happy to help you out.
If you have any questions that are not on this FAQ page, please email us at care@akoyahome.com and a customer support representative will be more than happy to help you out.
Don't just take our word, take theirs too!